A Mental Health Service Navigation App
Be Safe by mindyourmind is a free mobile app designed to support young people in reaching out for mental health support. The app aims to help users with making informed decisions and accessing relevant and reliable resources in Niagara. Be Safe is available on both Apple and Android devices, and as a printable pocket guide.
Be Safe does not replace professional clinical advice or emergency services, but looks to support users in navigating and selecting the most appropriate services when and where they need them most. It is intended to be completed with a supportive person when the user is not in crisis and should be kept up to date.
Be Safe can assist health care providers, teachers and parents with helping students make a safety plan. It can also be used by individuals to support a friend, family member or peer.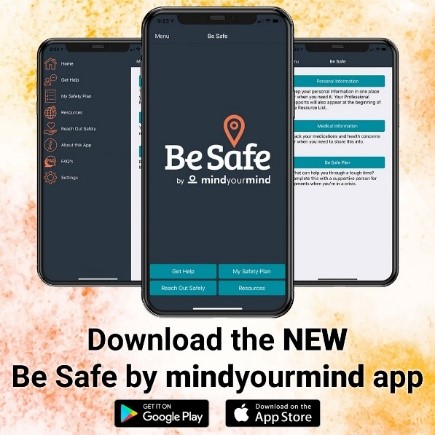 To Use:
Download from the App Store or Google Play.
Select your region from the list provided.
Fill out your safety plan with someone you trust.
Review and update your Be Safe Plan often.
When you need support, use the 'Get Help' button to guide you in reaching out safely.